ECRC Families Archive: MacAdam
The MacAdam Family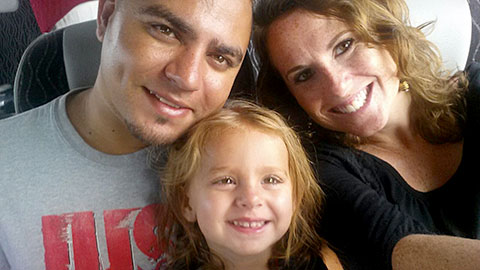 The MacAdam Family: (left to right) Adrian, Isabella, and Martha
As a family, we enjoy spending time outdoors, swimming at Grammy's house, and Skyping with our family in Malawi, Africa. Our family loves to travel the world together!
Adrian is from Malawi, where he met Martha during her time serving with the Peace Corps. Isabella spent two years living overseas in Malawi and Zimbabwe and has a passport full of stamps.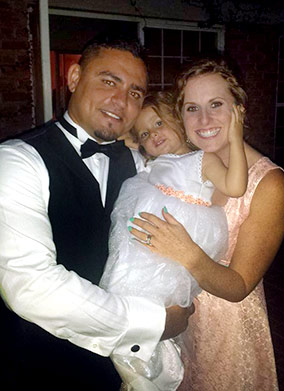 Adrian (Dad) works as an installation technician for Shell Fab & Design in West Seneca. He enjoys golfing, fishing, football (soccer), and spending time with family and friends. Together, Dad and Belle love to build forts, play outside, and jump in the pool.
Martha (Mom) is currently in her second year at UB Law School. Before returning to Buffalo for school, Martha worked overseas for a non-profit organization focused on combating malnutrition. Martha and Isabella enjoy singing and dancing around the house together, going to playgrounds, watching movies, and going to school right next to each other.
Isabella started at ECRC in August 2015. Belle loves her teachers and friends at school, story time, playing with play-dough, and dancing. She loves anything that has to do with princesses or baby dolls and loves taking care of her stuffed animals (especially her little elephant, Onie). Isabella loves all animals, especially Grammy's two doggies and her very own chickens that live at her papa's house in Malawi.